Financial Lines Webinar (FLW)
>> RECORDING AVAILABLE

HERE

Free Live-Webinar with D&O Experts – followed by virtual networking. 
The D&O-Insurance is currently one of the biggest challenges – amplified by COVID-19: Article Handelszeitung by HSFL
The FLF holds therefore on September 10, 2020 a free live FL-Webinar followed by Q&A with D&O-Experts.
After the Webinar: FL-Bilaterals – an opportunity for virtual Networking for the Participants – individual chat with existing / new contacts.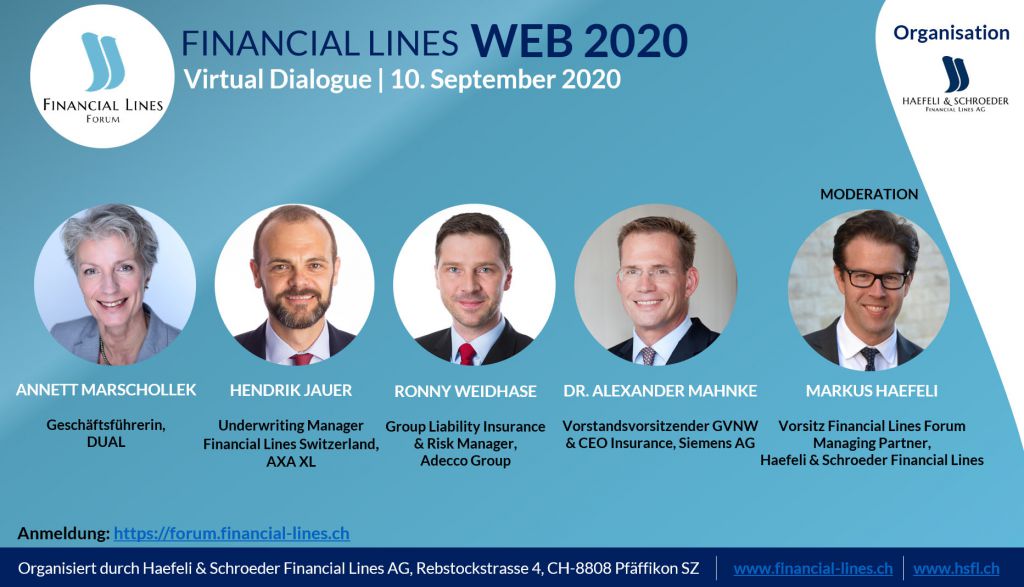 Date:
10 September 2020, 10.00 – 11.00 (Webinar), 11.00 – 12.00 (Networking)
Subject:
D&O insurance: Anatomy of a new reality. Insights from experts.
Panelists:
Dr. Alexander Mahnke, Chairman GVNW & CEO Insurance, Siemens AG
Ronny Weidhase, Group Liability Insurance & Risk Manager, Adecco Group
Annett Marschollek, Managing Director Dual
Hendrik Jauer, Underwriting Manager, Financial Lines Switzerland, AXA XL
Moderator:
Markus Haefeli, Chairman Financial Lines Forum & Managing Partner, Haefeli & Schroeder Financial Lines AG